I don't normally watch a lot of TV, but since I've been at this newer job, I've had a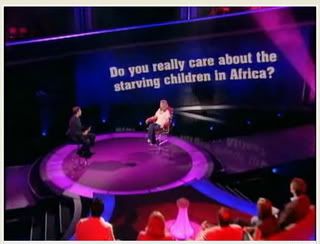 little more time to see what's on weeknights and weekends. Retail made it difficult to have any type of schedule. I've taken up watching a little bit of
The Biggest Loser
and
American Gladiators
[I have to be honest: The original was much better.]; however, for the first time last night I decided to tune in to
The Moment of Truth
. By the end of the show, I was just shaking my head in disbelief.
This show had a girl named Lauren Cleri who seemed sweet enough: She's a hairstylist who loves animals and just got married two years ago to her husband, Frank (ironically enough, her ex-boyfriend's name is also Frank). I knew something bad had to be coming when Lauren said, "The money is no object to me. I just want to get these things off my chest." Guilty conscience? I think Frank is in for a big shot to the heart.
This
video
shows the last three questions of the episode. Earlier, she'd already been tested with her faithfulness by being asked if she'd ever removed her wedding ring to appear as if she were single, and she truthfully answered that she had. That alone was a sign to me that she has no regard for or sensitivity towards her husband and marriage.
My question is this: Why get married if you don't really want to
be
married? It's a waste of time, money, and broken hearts. If you can't be monogamous, then you shouldn't walk down the aisle. Unfortunately, this is happening so often these days; especially with people my age. I thought marriage meant being with your partner (and
only
your partner) until death do you part, but I suppose maybe my husband and I are just old fashioned that way. We follow the rules of marriage the way it should be (unless you're a swinger, but don't even get me started on that), and we don't do it because we feel like we have to because now we're "stuck with each other," but we want to because we love each other.
If she still had feelings for an ex-boyfriend on her wedding day, then I'm pretty sure she saw it coming long before she put on that wedding dress and the ring was slipped on her finger. Not only that, she felt like she should be married to that guy instead. This girl is definitely not marriage material if she can't get herself focused on one person and let go of the past.
Am I one of the few people that gets absolutely frustrated when I see a marriage being jeopardized because someone is being stupid and can't keep it in their pants/keep their legs closed? I think Webster needs to update its definition of marriage to fit today's society: "Noun; the social institution under which a man and a woman temporarily commit to one another without any basis of loyalty, faithfulness, trust, or respect."